---
---
SITE INDEX for BEIT HaDEREKH

THE JEWISH/HEBRAIC BEGINNINGS OF CHRISTIANITY
and
MESSIANIC JEWISH (and Gentile) WORSHIP



SUGGESTED ORDER OF INTRODUCTORY ARTICLES
for a study of the Hebrew roots of Christianity




THE JUDAISM-CHRISTIANITY CONNECTION


WHY CHRISTIANITY? or WHAT JEWISH ROOTS?
ITíS JEWISH
REASONS to Study the Hebrew Roots of Christianity
ROOTS: A Christian Response to Israel
The Mishnah, Righteousness, Fasting, Gospel
THEOLOGICAL ERRORS DUE TO SEPARATION FROM HEBREW ROOTS
STEPPINGSTONES TO UNDERSTANDING OUR JEWISH ROOTS">
JEWISH FOLLOWERS OF YESHUA IN THE CHURCH
MESSIANIC JUDAISM
A MESSIANIC GENTILE IN A MESSIANIC JEWISH CONGREGATION
GENTILES IN JEWISH WORSHIP




BIBLE STUDY


HOW TO STUDY THE Bible
HIDDEN IN THE HEBREW -- IN THE BEGINNING
WHO IS JESUS?
THE POLITICAL MESSIAH AND THE TEMPLE
MEDITATION IN HEBRAIC PERSPECTIVE
THE SON OR THE VINEYARD?
SON OF MAN -- MESSIAH -- SON OF GOD
PAUL THE PHARISEE
THE CROSS AS AN EVENT
Fasting, Judging, Pagan Religious System




THE LIFE AND DEATH OF YESHUA


JESUS A JEW?  SAYS WHO?
CONCEPTION
BIRTH
Why Sukkot is Yeshua's Real Birthday
CIRCUMCISION
DEATH
CRUCIFIXION for the Gentile reader
CRUCIFIXION for the Jewish reader
RESURRECTION
Friday Afternoon to Sunday Morning
RETURN




"LAW" VERSUS GRACE, AND OBEYING GOD VERSUS OBEYING MAN


LEGALISM
IS GOD A LIAR?
SUNDAY? or GODíS DAY?




GODíS HOLY DAYS


SUNDAY?
EASTER???
PASSOVER (Pesach)
FIRSTFRUITS (Yom Ha-Bikkurim
FEAST OF WEEKS (Shavuot)
FESTIVAL OF TRUMPETS(Yom T'ruah)
FEAST OF TABERNACLES (Sukkot)
FESTIVAL OF LIGHTS ("Dedication" in the New Testament) (Chanukah)




CHRISTIAN WAYS VERSUS THE BIBLE


IS JESUS GOD?
HELL
MORE ON HELL
SUNDAY
THE SOUL
ARE YOU REVEREND?
THE KINGDOM OF GOD
THE PEOPLE OF QUMRAN: Are We Repeating Their Mistakes Today?
THE HIGHEST FORM OF WORSHIP




HEBREW LANGUAGE STUDY


WHY STUDY HEBREW LANGUAGE AND CULTURE?
MORE REASONS to study Hebrew (and Greek)
EVIDENCE FOR HEBREW AS THE SPOKEN LANGUAGE IN JUDEA
JESUS SPOKE HEBREW? SAYS WHO?
DO GENTILES NEED HEBREW?
UNDERSTANDING the NEW TESTAMENT from a HEBREW PERSPECTIVE




BIBLE WORDS


Word Study Links
The NAMES of GOD
THE NAME
Yeshua? Y'shua? Yashua? Yahshua? Yahoshua? Just what IS the Name?
Yeshua vs Yahshua A biblical name vs a fabricated name.
BRIT-COVENANT
The KINGDOM of GOD
HALLELUJAH
The CHURCH
VERILY OR AMEN: What Did Jesus Say?
THE EXPRESSIONS OF PRAISE: Our Hebrew Legacy
BAPTISM and RIGHTEOUSNESS




WOMEN


Paul's View of Women in Church Leadership
THE ROLE OF WOMEN IN FIRST CENTURY JUDAISM AND THE CHURCH
WOMEN IN FIRST CENTURY JUDAISM
WOMEN DISCIPLES




ANTI-SEMITISM


IS THE NEW TESTAMENT ANTI-SEMITIC?
WHO CRUCIFIED JESUS?




PALESTINE


ISLAM, MIDDLE EAST, PALESTINIAN NATIONAL COVENANT -- Dr. Roy Blizzard
HISTORICAL MAP OF THE NATION OF PALESTINE
LIST OF KINGS AND PRESIDENTS OF THE NATION OF PALESTINE
GENEALOGY OF THE PEOPLE OF PALESTINE
See the VAST LANDS ISRAEL IS ANNEXING from the ARAB WORLD
HISTORY OF THE WORDS PALESTINE AND PALESTINIANS
I AM A SETTLER




BIBLES


HEBREW NAMES VERSION
BLUE LETTER Bible / BLB CLASSIC
WORLD WIDE STUDY Bible
A HEBREW-ENGLISH BIBLE (Mechon Mamre)
The Bible ("Old" and "New") in Hebrew
Brit Chadashah in Hebrew (not Delitzsch)

First column (right side) with nikkudim.





REFERENCES


STRONGíS CONCORDANCE
JOSEPHUS
Bible translations into Hebrew. Lists several versions of the Brit Chadashah.




YAVO DIGEST ARTICLES


On-line Article Links and Q&A from "As I See It"
All Articles A-D
All Articles E-I
All Articles J-N
All Articles O-S
All Articles T-W




LINKS


KARL COKE EVANGELISTIC ASSOCIATION
CONGREGATIONAL LINKS
HEBRAIC HERITAGE MINISTRIES INTERNATIONAL
HaíYíDID (THE FRIEND) LEARNING CENTER
LION AND LAMB MINISTRIES
FIRST FRUITS OF ZION
CONGREGATION MELECH YISRAEL, ONTARIO
KARAITE KORNER




NEWS FROM THE OTHER SIDE


HONEST REPORTING
MIDDLE EAST MEDIA RESEARCH INSTITUTE
COMMITTEE FOR ACCURACY IN MIDDLE EAST REPORTING IN AMERICA (CAMERA)




PERSONAL COMMENTS


BELIEFS VERSUS TRUTH
WHAT ARE CHRISTIANS AFRAID OF?
LEGALISM
RELIGION
SOME DIFFERENT VIEWS
GODíS (NOT "The JEWS'") HOLY DAYS
The SABBATH MILLENNIUM
TIME VERSUS ETERNITY
QUESTIONS for EVERY CHRISTIAN Ė IS GOD A LIAR?
LOOKING FOR A GOOD TIME?
ARE WE ALONE?
LAMBíS BLOOD
BIBLICAL MISTEAKS
ABOUT ME
A GENEALOGY FROM ADAM
COMMENTS
PHOTOS:
Jerusalem

Capernaum

Fortresses





GUEST ARTICLES



WHY I BELIEVE IN MIRACLES TODAY
br> First Fruits of Zion
Congregation Melech Yisrael, Ontario
Bridges for Peace
Navigating the Bible II
Torah of Messiah
The Pagan Origins of Easter
Was Jesus Conceived at Hanukkah or born on December 25?
Three Days and Nights
Jesus is a Jew
Festival of FirstFruits
Yom Kippur
Shavuot
Question the Answers
Dr. Cohen's Gospel
Messianic Terminology
History of the Messianic Symbol




BACK TO BEIT HaDEREKH



For questions, comments, or broken links please contact johnt204(at)inbox.com
Please put this **&**&**&INDEX&**&**&** in the subject line of your email
in case it goes to my spam folder so that I can notice it easier. Thanks.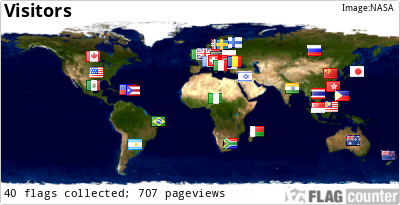 6/16/13
Last update 17 May 2020